A few days ago, regarding my charm school post, somebody said they'd never seen the dresses I wore before. And it occurred to me that at this point, I have such a big wardrobe that a lot of outfits go for months without being seen. (Can any of you humans out there relate?) So I thought I'd look into the far reaches of my closet and pull out a couple of things. Since the weather was so pleasant today, I picked out some spring dresses and decided to model them outside.
I'm not sure, but I think both of them came from Ross. My human picks up dresses for me at a quarter of the price that the outfits at Petco cost. They aren't as sturdy, but they're still cute and fun! Don't you think this one looks nice on me?
Even though that was an exceptionally nice background, we went to a different part of the yard for the second dress. The iPhone is on a tripod because my human wanted to shoot something for an IGTV video on Instagram.
I think there's a saying about stopping and smelling the roses, but there weren't any, so I stopped and smelled some dandelion stems.
I've never done a fashion shoot by this tree before.
Can you believe I've never climbed a tree? I have rubbed up against them, though!
I hope you enjoyed my brief modeling session!
* * *
---
---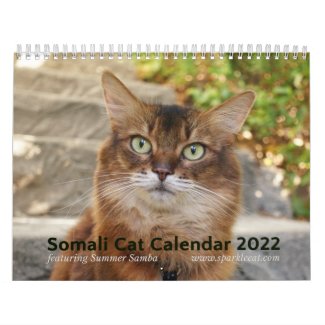 2022 Somali Cat Calendar Starring Summer Samba
See all of Summer's merch at her
her Zazzle Designercat Shop