Today is "Dress Up Your Pet Day!" My human did not even know this day existed until I came to live with her. Somehow, Sparkle managed to keep it a secret. But I like getting dressed up, so I am happy to celebrate this day. Besides, I have a special event coming up — in about a week, I will be at the biggest cat show on the West Coast, and it will be my first time as a "Pet Me" cat! That means I don't compete, I just let people visit with me. My human thought it would be fun if I had a few outfits to wear occasionally over that weekend.
So we went shopping at PetSmart this week, but there wasn't much there! The problem is, it is between seasons, and the only things that were available were sports jerseys and we all hate sports in my family, or a few dresses from the Martha Stewart collection. I have the same problem my human does — I tend to be between sizes. Sometimes I am an X-Small, and sometimes I am a Small, depending on how the sizes run. In this case, I thought the X-Small would fit better.
It is just the teensiest big snug, but I do think it is cute! It will be good for spring. Fortunately, my human stopped at PetCo a day later (she had a bunch of errands so she couldn't take me), and picked up some more outfits for me.
Here is an adorable little Valentine's Day dress! I think this one is my favorite out of everything I had to wear for this session.
You have to see the back, though! I tried posing from this angle but it didn't work out.
Isn't this just the coolest dress?
This hoodie is pretty nice too, and the hood part is large enough so it only bothers my ears a little bit.
You have to see the back of this one too — it's got sparkly red bows.
I've had this pink polkadot harness for a while but haven't had the chance to show it off yet.
Here it is from above. I think it is really pretty.
And since tomorrow is National Hat Day, I have to wear a hat too — my human got me this black panama hat a while back when I was doing my Caturday Reports because she wanted me to look like a real reporter. But I never did go back to doing the reports. I guess I am a failure as a journalist. At least I can still do the fashion part!
Which of my outfits today is your favorite?
* * *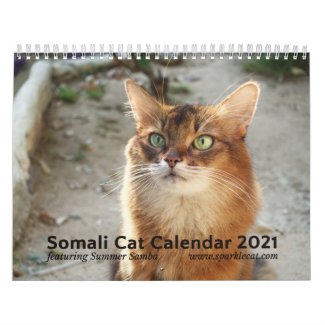 2021 Somali Cat Wall Calendar, Starring Summer
See all of Summer's merch at her
her Zazzle Designercat Shop