I'm a little annoyed with my human. She went to the pet store without me, and I would have really liked to go! Sometimes when she is in a hurry, she won't bring me along. But at least she brought me home a new dress. I have a huge cat show next weekend where I am going to be a Pet Me Cat. Because it is such a Big Deal show, I am going to wear a couple of my fancy dresses, but I am also packing a couple of more casual choices. This will be one of them.
It's a Valentine Dress, as you can tell!
It is also a hoodie dress, but the hoodie part didn't work out that well. I think it looks like I don't have a forehead!
While we were outside, my human had me practice my bell ringing trick.
Guess what? I rang it a bunch of times! I finally figured it out. Maybe the dress helped me. Of course this was the day my human decided not to shoot a Live Facebook video so you can't see my big success on film.
* * *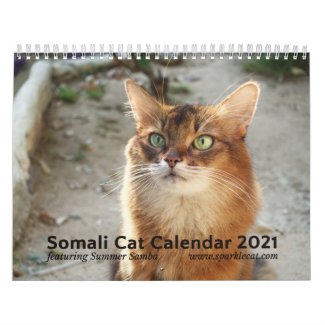 2021 Somali Cat Wall Calendar, Starring Summer
See all of Summer's merch at her
her Zazzle Designercat Shop