I had a fun cat show weekend in Ontario (California, that is — we are more than a little far from the Canada Ontario!). Since Sunday was Dress Up Your Pet Day, my human brought a lot of my outfits! And some accessories too, like my favorite necklace.
Lately, for the local shows, my human has been setting up the bottom half of my Sleepypod carrier with one of my favorite beds in it. It's very comfy and it's become my home base when I'm doing Pet Me Cat duties.
I wore my necklace with one of my favorite party dresses for a Facebook Live video! It was fun showing off for the camera (even if my human was a little awkward holding it — did I mention she needs a new mini-tripod?).
I also had fun showing spectators my tricks! I gave High Fives to a whole family (well, except for the older boy — he said he didn't want one, although I don't think I believed him). Lots of children showed up, and I enjoyed that. One little girl was so charmed by me, she cupped my face in her hands. That was cute.
Meanwhile, you are probably wondering if I had any relatives there. I did! Do you remember my nephew, Navy? The last time you saw him, it was his first-ever cat show! And here he is now, at a little over six months!
He has gotten so big… and handsome!
There was also a five-month-old ruddy Somali kitten there. (He is number 55, and Navy is 56). Kittens grow a lot in just a month, as you can see, looking at these two! This ruddy boy will be going to live in Denmark next month. His breeder is hand carrying him there.
Navy was a little shy on Saturday. But on Sunday, he came out of his shell and started having a lot of fun with the judges.
Most of the judges had a sisal pole next to the judging table and Navy (and the other kitten) really enjoyed using it.
Ruddy kittens generally have an edge over blue, everything else being equal or nearly so. So Navy came in second in the judging rings this weekend.
But he still made a final! A good number of kittens competed at this show, so it was pretty special to have two Somalis in a final.
Even though I didn't compete, I worked very hard, as you could tell from the beginning of this post! But I took lots of nap breaks. I'm so used to being a public kitty that I even make sure I look cute when I'm sleeping.
See?
My human took advantage of my position to take a bunch of close-ups of my toe hawk. She's a little strange.
* * *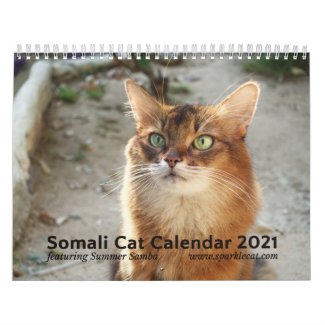 2021 Somali Cat Wall Calendar, Starring Summer
See all of Summer's merch at her
her Zazzle Designercat Shop