Oh no! Something awful has happened to Dr. Bones!
My human was straightening up my photo studio, and she found him under a pile of clothes… and his leg was broken! In fact, it's more than broken. It's not even attached.
I think it may be up to me to fix his leg! I'm the only one around here with any medical experience.
Studies say that purrs can actually help heal bones. But I think I may need to do more than purr in this case.
It's a good thing my human had this sitting in a drawer. It's not sterilized, but it will have to do.
I think this will actually work!
And Dr. Bones' leg is fixed! He will need some rehab, of course, before he is back to normal activity. Right now, the leg is a little bit stiff.
He's even standing, although I wouldn't recommend he do that for very long. Whew! That was a stressful operation!
* * *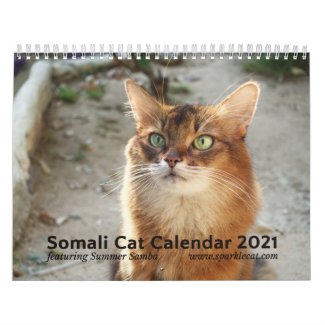 2021 Somali Cat Wall Calendar, Starring Summer
See all of Summer's merch at her
her Zazzle Designercat Shop