My human and I thought we were going to be the only therapy pet team at the big hospital today, but the other therapy cat, Josie, and her human showed up too. So we got to team up for the patients and health care workers today.
Pediatrics was very quiet. There was just one high school aged boy with his dad, and we spent a lot of time with him. As is so common with the kids, there was a chair next to the bed that converts to a sleeper. I could tell this one had been well used by the dad. The boy had never touched a cat before, and this was his lucky day since he got to pet two! He was very nice, as was his father, so it was a happy visit.
After that we went to the adult wings. The third floor was open for visits again, but they did ask for the humans' vaccination cards. While Josie visited with an elderly man in another room, my human and I visited a middle aged man who was recovering from knee surgery. He was an animal lover, who had a chihuahua mix at home, and lots of neighborhood cats visiting his yard. My human got to hear all about them while I settled in to do my purr therapy.
We were running out of time since we had to be at Behavioral Medicine at 11 AM, but Josie's human said the elderly man really wanted to see me. So we stopped by briefly. He was a very nice man who was delighted to see me. His daughter was there and said, "You really made his day. He is having a hard time here." The man was going through a lot of physical challenges at the hospital, and I think it was important that Josie and I were able to give him a break. Same with the staff we saw along the way. They took lots of photos and one said, "I feel better already!" after spending time with us.
Finally we went up to Behavioral Medicine. There was only one patient to spend time with us today, a boy who didn't look any older than the teen we saw in pediatrics. He was pretty quiet, but he enjoyed spending time with us. During the visit, Josie's human talked about the new family kitten, and how every time someone went in and out the door, it tried to bolt outside. Once the visit was over, we had to wait in the hallway while the staff took the young patient back into the ward. And my human realized they needed to do that to make sure the patient didn't bolt out the door. Behavioral Medicine is very tightly locked up.
It wasn't a very busy visit, but I think all our encounters were especially meaningful.
Other posts you'll enjoy:
* * *
---
---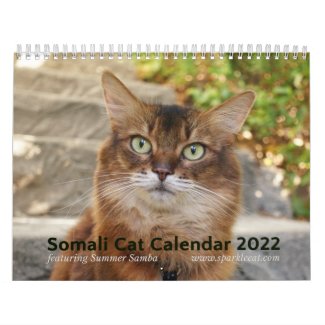 2022 Somali Cat Calendar Starring Summer Samba
See all of Summer's merch at her
her Zazzle Designercat Shop