I really do love my Yeowww! catnip rainbow. I start most of my mornings with it. My human says I "wake and bake," whatever that means.
You guys can keep your catnip bananas. I'll take my rainbow any day.
In fact, there's only one thing better than my Yeowww! catnip rainbow.
Two Yeowww! catnip rainbows! My human found a second one hiding somewhere and pulled it out. It's not new, but it's not as used as my usual one.
I'm having a hard time choosing here!
This one's pretty nice.
But then, so is this one!
I think I'm too high to decide!
* * *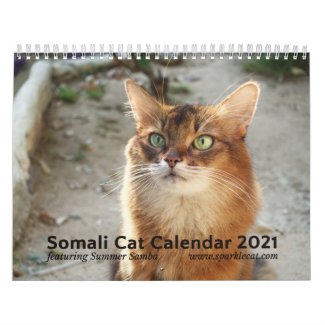 2021 Somali Cat Wall Calendar, Starring Summer
See all of Summer's merch at her
her Zazzle Designercat Shop