So what did I do on International Cat Day? A therapy cat visit, of course! And by coincidence the other therapy pet was Josie, the only other therapy cat in our organization. So we did double cat duty. Which was pretty cool because we saw a lot of cat lovers!
Even before we officially got started I met lots of nice people. My human and I got there before Josie and her human, and staff and visitors kept wanting to pet me. One worker told us about her autistic daughter who had a cat who helped her very much. The cat was also very attached to the girl, and missed her lots while she was back east seeing relatives.
The first place we visited was the Cancer Center, which is basically a big waiting room, with a small room in back where patients got chemo. Today there was someone getting chemo and I got to curl up on the pillow she had on her lap. It was really nice and I could have stayed there all day. But I only stayed for a little while, and then Josie came in and took a turn. My human talked a lot about how I became a therapy cat. She always loves when people ask.
Next, we all went up to Pediatrics and visited with several children. All of them had large families with them, so Josie and I had a crowd of people in every room! The first little girl we saw was in the hallway, and she was so excited! "Look, Papa, a kitty!" she cheered. With her parents' encouragement, she went in her room and sat on the bed while I hung out with her.
My next visit was a little boy that had already been seen by Josie. When we do bed visits, my human always lays down a clean sheet, as regulations require. Usually when we are done, my human bundles up the sheet and places it into the soiled linen bin. But this time, we left the sheet for Josie to use, and vice versa. So when I sat on the boy's bed, I spent some time sniffing the sheet because I could smell Josie! I later found out that Josie did the same thing when she visited the little girl I had just seen. This boy's family included a young brother and he enjoyed visiting with me too.
We also visited a little girl, and there was only a few minutes left in the schedule, so my human suggested stopping by the Residents' Workroom. There was only one resident there but she was happy to see me and Josie, and a few minutes later, a young man showed up. He took a photo to send to his girlfriend.
Josie and I had very nice visits, and it was a great way to celebrate International Cat Day.
* * *
---
---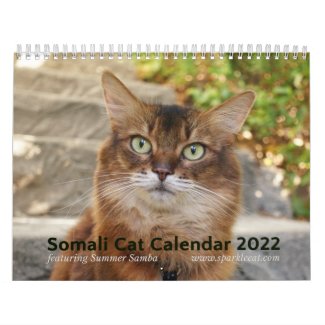 2022 Somali Cat Calendar Starring Summer Samba
See all of Summer's merch at her
her Zazzle Designercat Shop