After seeing yesterday's DJ style photos, you probably guessed there were a few bloopers. Actually, there was a bunch of them! So many, in fact, that I was able to put together a blog post with them, and still have some left over.
I look like I was enjoying the party a little too much in this photo!
This shiny beaded collar was supposed to be one of my fashion choices yesterday. But my human never did get a decent photo. And when we went back for some pick up shots, she totally forgot about it.
Here I am with the black fedora but no sunglasses. I don't look very DJ like but I think it's a better look away from the turntable.
Hey, if you are a DJ, you have to be prepared for those wild parties! That's what I was doing in this photo. Okay, I'm actually not sure what I was doing here.
This actually would have been a decent photo if I'd had a better facial expression, but my human was never able to recreate it.
And here I am, asking for treats, even though we weren't done with this outfit yet.
Were these silly enough for you? Did you have a favorite? Let me know in the comments.
Other posts you'll enjoy:
* * *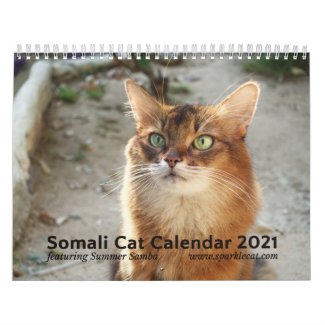 2021 Somali Cat Wall Calendar, Starring Summer
See all of Summer's merch at her
her Zazzle Designercat Shop