I have a fun project for you humans this week — one that your cats will definitely want to supervise! It's time to get creative and put together some simple, homemade cat toys. But just because something is simple, it does not have to be small.
You can make a cardboard box playground for your cats! There are some handy tips for putting one together on page 9 of the current PetCo PurinaPurr! As you can see, my human is just getting started. I will give her — and you some additional tips.
Accessorize your boxes with crinkly packing paper and colorful tissue paper!
Make sure you have the right size boxes! I don't think this white one will work.
Also make sure you have enough materials on hand. In addition to boxes, and hopefully some crinkly paper, you will need strong scissors or even better, a good box cutter, and some duct tape to hold everything together securely. As you can see, my human does not have anywhere near enough duct tape. I am going to send her over to the hardware store right now!
If you don't have enough boxes right now, there are other things you can make too! Friskies has a "DIY Homemade Cat Toys" Pinterest board with lots of crafty ideas that you can put together without spending any money — you just use items you already have around the house! I bet a lot of kitties' favorite will be "The Partymaker" — it uses an empty Temptations bag which, of course, means that you ate all the Temptations! This toy will give you good exercise so you can work off the treats.
Now here is some incentive for you kitties to get your human working on this: send me a photo of you playing with the toy your human made and I will randomly pick one of you to receive 5 PetCo coupons, each one good for a free can of Friskies (US residents only)! Plus I will paw-pick one other photo to submit to Purina for possible inclusion in the Summer issue of PurinaPurr!
It does not matter how you get the photo to me. You can post it on my Facebook page, upload it onto Twitter or Pinterest and leave me the link in the comments below, or you can email it to me at sparkle AT sparklecat DOT com! You have until Friday, March 29 to enter — I can't wait to see what you come up with!
Note: coupons are supplied by the Purina/ Friskies humans. I'm not being compensated for this post by them… although offers of fried chicken would be gladly accepted.
* * *
---
---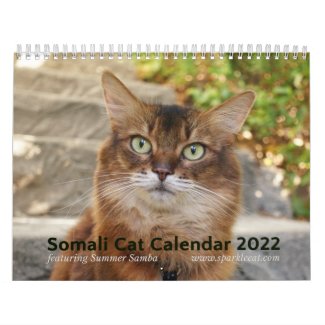 2022 Somali Cat Calendar Starring Summer Samba
See all of Summer's merch at her
her Zazzle Designercat Shop