What am I doing on the dining table? Other than why not? This is going to be the location for tomorrow's Cat World Domination Day party! I was about to supervise the set up, when I figured this was as good a time as any to get my selfies for this week done.
I just needed to grab the iPhone for a quick shot.
Hey, I got a good one the first time! That hardly ever happens. Now I can get back to preparing for Cat World Domination Day.
Wait a minute, what is she doing here? She's not supposed to supervise — she'll only get in the way. Set up may take longer than I expected.
* * *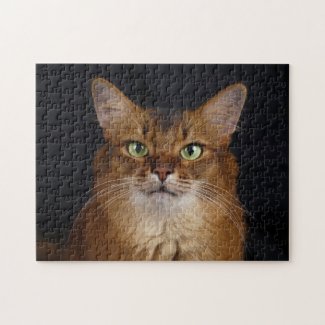 Somali Cat Photo Portrait Jigsaw Puzzle
See all of Summer's merch at her
her Zazzle Designercat Shop