You never see my castle cat tree these days, but it's still here! And I still use it. So I think I'll do my Sunday selfie here.
In fact, I think I'll take it from inside my turret. Isn't that funny? I live in a house with a turret (where I took a selfie before), and I have a cat tree with a turret too!
I was thinking of using this hole to stick my paw out and hold the iPhone, but I can already tell it's not going to work.
Okay, I think I'm ready to take the selfie now.
Oh no! It's the dreaded nostril shot. Sorry about the misfire. Let me give it another try.
That's better! So here you go.
* * *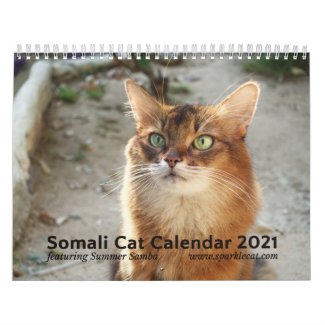 2021 Somali Cat Wall Calendar, Starring Summer
See all of Summer's merch at her
her Zazzle Designercat Shop