The last time my human went to the pet store and I didn't go along, she came back with two party dresses for me! Now I have to decide which one I like better, in case I have a party to go to.
Here is the one with the satiny striped skirt. It is pretty and kind of classy.
My human had me stand up so you could see the pink ribbon better. Nice, isn't it?
I have to be honest, though — I think I like the skull dress better!
See? I can be a punk rock kitty! This is my tough look. I couldn't wear the other dress and look tough.
But I can still look sweet in it if I try.
So what do you think? Which dress looks better on me?
* * *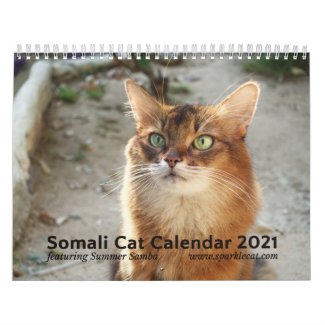 2021 Somali Cat Wall Calendar, Starring Summer
See all of Summer's merch at her
her Zazzle Designercat Shop