So it's early December, which means it's almost winter. Here in southern California, the temperatures are currently in the mid-70s. We don't have four seasons. In fact, we barely have three. More like two and a half.
Since it is fall, I figured I should probably wear something a little heavier than my breezy summer dresses. So here I am, in my pink pineapple dress. The material is just slightly thicker.
I had fun parading around the front yard in my dress. I always do.
Seriously, it does get cold here in southern California. Down into the 60s during the day. If it's really bad, it gets into the 50s during the day. And we usually have at least one or two overnight freezes at some point.
While I was outside, I enjoyed a turkey tendon.
In an attempt to make this December photo session look festive, my human had me wear my reindeer sweater. I think we will have to do all our holiday sessions inside!
Other posts you'll enjoy:
* * *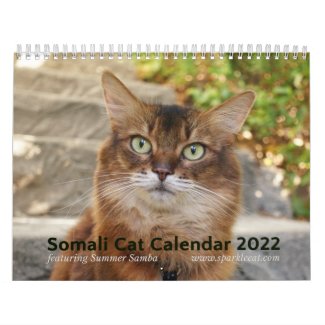 2022 Somali Cat Calendar Starring Summer Samba
See all of Summer's merch at her
her Zazzle Designercat Shop