My human and I had this therapy cat visit scheduled for a few weeks. For the day before Christmas, I wanted to go somewhere where I felt I might be really needed. We wound up choosing a residential facility for children who, for various reasons, couldn't live at home or that had behavioral problems. The facility was in the town right next to us, but I had no idea how close — it took my human less than 10 minutes to drive us there!
I wore the same Santa dress that you saw yesterday. I wanted to be festive! And I think I was. The other team was led by an older dog named Smacky. She seemed pretty nice and calm. Smacky visits this facility often, so the kids knew her, but I was the first cat to come visit. A lot of them were really excited to see me! They ranged in ages from 8 or 9 up to teenage.
Our visiting area was outside of one of the buildings where the kids lived. Of course the first thing I wanted to do was jump out of my carrier and go inside and explore. My human told me I couldn't do that, and she apologized for my behavior. "No matter where we go, she always wants to go the places she's not allowed," she said to one of the facility's adults.
"Oh, like some of these kids," he replied with a smile.
So no wonder they liked me… I was kind of a kindred spirit! Lots of them petted me, and my human showed them my tricks. I gave some of them High Fives, and I even rang my bell a couple of times! A couple of the girls couldn't get enough of me, and when an adult told one of them she had to come inside and take a shower, she had a crying tantrum! She was so worried that when she came back out, we would be gone already. The adults finally got her inside, and only five minutes later she came out, showered and in her party dress. (They were going to a party after our visit.) Just to let you know, I was much calmer than my human was during the girl's crying fit. That sort of thing stresses her out way more than it does me.
After a while, I decided to jump down from the table where my carrier was stationed and go for a walk. I just wanted to stretch my legs. Some of the kids are allowed to walk Smacky around the yard where we were, but my human didn't think that would be a good idea with me. Although I'm very good on my leash, I tend to go where I want to go and only pay attention to my human's directions. I've only been walked by a couple of other people — my human's boyfriend, and one of her friends at BlogPaws once. She doesn't think a kid would be able to keep control of me.
I was so glad I did this visit! I hope the kids have a good Christmas even though they might not be home with their families and pets this year. I'm sure I'll come back again in 2018.
* * *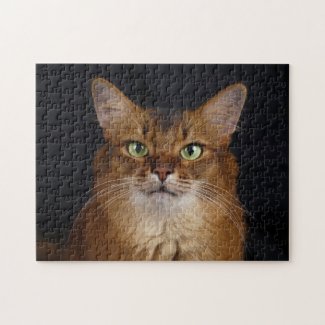 Somali Cat Photo Portrait Jigsaw Puzzle
See all of Summer's merch at her
her Zazzle Designercat Shop