When you go to a conference, like the Cat Writers' Conference my human and I just attended, you get a swag bag, or a bag of goodies from brands. These brand sponsors are the lifeblood of conferences. They help cover costs and make things more fun! The thing is, I don't really need a lot of goodies anymore. We have too much stuff at our house already. So I wound up keeping only a few CWA goodies, and this is them.
Mostly, we're keeping practical stuff. My human has been wanting a Zen Clipper for the longest time, and she was delighted to find one in the goodie bag. And the Quick Bath wipes too — in fact, she had just bought a package of these before we left! The VitalCat Rabbit Bites got opened at the conference. (My human used them for photo sessions with me.) And the Tomlyn Lysine gel is for Boodie. At least I get to keep the Hertz Silver Vine and Catnip Unicorn kicker. That was my favorite out of everything!
Oh, look who's here! Sorry, we didn't save anything for you. Unless you want some lysine gel or clippers.
No, not my toy! Well, that sucks.
Well, I guess I had better do my giveaway before Binga starts trying to take these too! Here's what's going to a lucky reader of mine:
Cat Lady license plate from CatLadyBox
MeatMe Organic Chibbles Chicken Treats (they are awesome sprinkled on food!)
Nip Nibblers from Pioneer Pet
A couple of catnip toys from goodnewsforpets.com (there were two cards in the bag, we kept one)
Tomlyn Relax & Calm Chews
Feliscratch by Feliway
A portable beverage container from Purina that includes a catnip toy and a coupon for 1 3-oz. can of Fancy Feast
2 beverage holders from Clawguard
A kitty bookmark from the author of Caticons
A Pet Alert window sticker from Alley Cat Rescue
Several little bags of potent Meowijuana catnip
That's a lot of awesome stuff, and we are so grateful to these brands for their generosity! For the giveaway, comment on this blog post and say you did on the Rafflecopter widget below. That will open up options for more entries. Unfortunately, because of shipping costs, the giveaway is open to U.S. residents only. Good luck!
* * *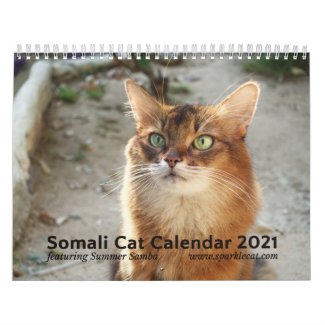 2021 Somali Cat Wall Calendar, Starring Summer
See all of Summer's merch at her
her Zazzle Designercat Shop