There were a few photos from the Cat Writers Conference that I missed posting, so I thought I would share them with you today!
Here is a view of the hotel from the hallway. It was designed so that half the rooms faced an interior courtyard. Across the way, you can see the hotel restaurant, where the humans had dinner. The floor underneath was where the cat show was. My human wound up not using this photo because the focus was kind of bad.
Here's another out-of-focus shot. It was later at night, so the light, or lack of it, made it hard to get a satisfactory picture. At least I did my part!
I totally forgot to mention that the hotel had courtesy cat treats in the afternoon! Wasn't that awesome of them? This hotel made us kitties feel so at home. It was one of the more pet friendly hotels I've stayed at.
Oh, they had human treats too. As you can see, my human helped herself to a cookie.
But don't worry, she also brought back some cat treats to the hotel room. And I didn't even have to do tricks for them. Or pose nicely either.
There I was in my glamorous dress at the awards banquet… and my human got a photo of me with my eyes shut!
And here I am at the gate, waiting to go home. Somehow my human managed to get her hand (holding a treat) in the shot with me. Plus I was wearing my treat face, not my nicely-posing face.
I hope you enjoyed today's CWA conference extras and outtakes!
* * *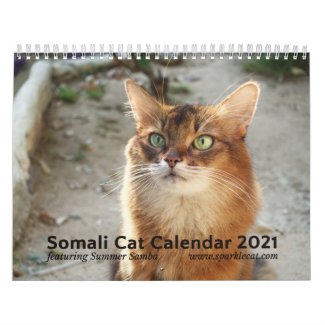 2021 Somali Cat Wall Calendar, Starring Summer
See all of Summer's merch at her
her Zazzle Designercat Shop