My human was shopping for some lightweight red tights (which aren't exactly the easiest thing to find in 80 degree weather), but instead she came home with these two cute little sun dresses for me. They came from Ross and they were like five dollars each. I know, because I saw the price tags before she cut them off. Anyhow, I thought I would model them today. Ignore the backdrop — it's new and my human hasn't washed it yet, to give it better wrinkles, or as she calls it, "texture."
Aren't the spring colors on this one nice and bright? It will look breezy and fun at BlogPaws in a couple of weeks.
Here's another angle, so you can see the flower with the rhinestone in the middle!
I think this dress is more of an afternoon cocktail party dress — informal, but still pretty. Plus it's cool because it will be hot in Phoenix!
Here is a better view of the dress. Can you see the smocking on the back? I thought that was a sweet detail.
While I was off doing something else, there was a visitor on the set! And it wasn't Binga.
She didn't know she was being watched!
* * *
---
---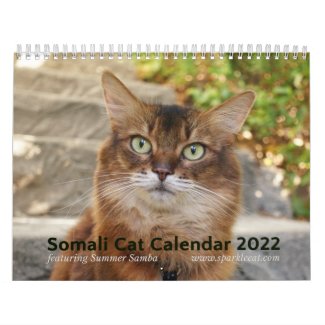 2022 Somali Cat Calendar Starring Summer Samba
See all of Summer's merch at her
her Zazzle Designercat Shop