Yes, it's outtake time again, and this week's photos are cute, funny, and festive! (Just like the title says.) Although I don't know what's so cute about the photo above, where I'm annoyed that my human's hand is in the photo, like it so often is.
My human wanted to get a photo of me sticking my face up through the top hole of this box. We didn't quite nail it.
The biggest problem with photo shoots under the tree is that the ornaments get in the way and my ear goes all wonky.
The biggest problem with my tiny tree photo session was that I didn't really engage with the tree… or even the tiny ornaments. You can see the ennui on my face as I half-heartedly paw at these balls.
The one thing I did really like was the gold glitter star topper! As you can see here.
And lastly, here I am, much like in the first photo — annoyed at my human for getting her knees in the photo in a way that makes them impossible to Photoshop out.
I hope this week's outtakes made you smile! If you have a favorite, let me know in the comments.
Other posts you'll enjoy:
* * *
---
---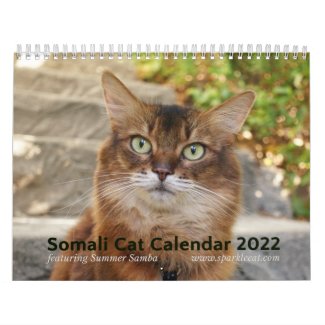 2022 Somali Cat Calendar Starring Summer Samba
See all of Summer's merch at her
her Zazzle Designercat Shop