There were so many photos of us kitties enjoying our toys from the Jackson Galaxy Collection by Petmate that we wound up with a bunch of crazy outtakes! Here are a few of them — make sure you scroll over the photos for the secret messages.
This was my look of surprise when I was told that the box was not part of the Collection.
Confession: at first, I didn't realize that you were supposed to be in the Comfy Cabana, not on it.
My human almost didn't get the treats all the way into the Go Fish Slow Feeder… we were too fast for her!
Boodie can't figure out why the Air Prey toy is so hard to catch! Yes, she is not the brightest bulb…
Did I mention that the Mixed Twisted Kicker has catnip in it? Or that I'm a lightweight when it comes to catnip?
In fact I was so stoned that I invited Binga to wrestle with me! She was incredulous.
I guess she was afraid of my impressive paw waves.
Have you entered my giveaway yet? One lucky winner will get a package containing some of these fun toys!
* * *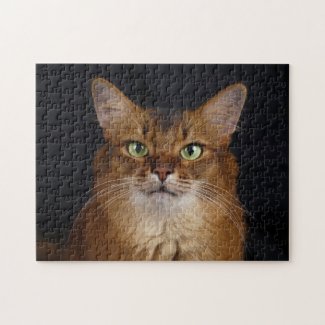 Somali Cat Photo Portrait Jigsaw Puzzle
See all of Summer's merch at her
her Zazzle Designercat Shop