I just realized that it has been two weeks since I've shared any new outtakes with you! So I put some together for your enjoyment. The above photo, of me in some weird, unexplainable position, happened when my human was setting up lights for a photo shoot.
As you may recall, my photo shoot to honor Madi didn't turn out very well. There were quite a few outtakes, including the one above where my human got frustrated at Binga's inability to cooperate and plunked the red hat on my head! Well, that didn't work out much better.
This awkward tongue-out photo is from my visit to the USC campus a while back. The day may have gotten better after this photo was taken, but it certainly started off looking bad!
My human was trying to get a photo of me with the SureFeed Microchip Pet Feeder box, but I kept looking off with my head cocked. It turned out my human's boyfriend was standing in the doorway. Why was I looking at him like that? Neither of them could figure it out! This particular photo has the extra benefit of a sliver of tongue. By the way, if you haven't entered my giveaway for one of these microchip pet feeders, you can do so here.
Yes, Binga was briefly on the set for my fish costume shoot. She didn't have to wear it that night… but don't think she is totally off the hook!
And once again we've reached the end of the outtakes! I hope you enjoyed them.
* * *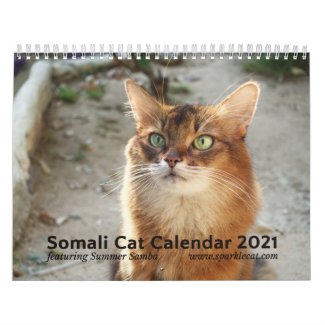 2021 Somali Cat Wall Calendar, Starring Summer
See all of Summer's merch at her
her Zazzle Designercat Shop