Look who my human saw this weekend! My nephew, Louie, who she calls Crazy Louie (because he is). He competed in this past weekend's Arcadia cat show, so my human stopped by for a while.
Louie has been doing really well at the cat shows. Well, why not? He has good looks and lots of personality!
He's still very busy in the judging rings. In this one, he pulled down one of the ribbons so he could play with it.
The judges liked playing with him too.
They also said a lot of nice things about Louie… but I think he was more interested in their cat toys.
You can tell his mind is working overtime.
If he didn't have ribbons to knock down, he was reaching out to touch somebody, or trying to grab some of the wipes they used for cleaning the cages.
Crazy Louie got more than enough finals and points to earn Quadruple Grand. He even got a Best in one ring.
Now, he just needs one more Best to get the title of Supreme. Just to let you know, it took me over a season to get my Supreme title. I finally got it in the first show of my second show season. Louie got his Quad in half the time it took me! So he's pretty special.
He's also a pretty big troublemaker! I will be seeing him at my next cat show in a couple of weeks, in Pomona.
And look who else my human saw at the cat show! A group called Hope to Home for Cats was having adoptions at the show, and somebody told my human, "There's a Binga there!" She had to look, and this is who she found. This friendly tortie is named Frankie. I don't know if she got adopted, but you can see more photos of her in this post on their Facebook page. So if you are near California's Inland Empire, you might want to check her out.
* * *
---
---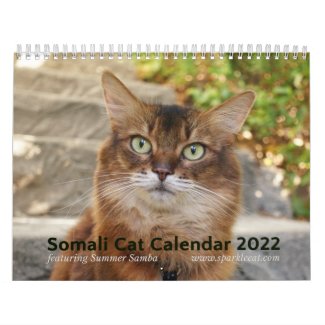 2022 Somali Cat Calendar Starring Summer Samba
See all of Summer's merch at her
her Zazzle Designercat Shop