My nephew Louie was in fine form at this past weekend's cat show! He's not even a year old and he's in amazing condition. He has beautiful "ticking," which is hard to get on a blue coat. Ticking (the rings of color on our strands of fur) is what gives our Somali coats that depth and complexity.
So he's got the looks, but my human likes him because he is a mischief maker! He will always be "Crazy Louie" to her. At this cat show, he was messing around with the plastic covering the back of the judging ring cages. He was reaching around, looking for things (and people) to touch. The only thing he didn't do this time was knock down the number on top of his cage. He was thinking about it in the last ring of the weekend, though!
Here he is making jazz hands at a judge.
Louie really loves playing with the judges in the ring.
He tried to put that whole big sparkly ball in his mouth! He didn't want to let go of it once he caught it. That really entertained the people watching him in this ring.
This judge joined in on the fun. Louie wanted to look at the banner, so the judge helped.
Here's the result of Louie's weekend! He finaled in eight out of 10 rings, and he is pretty close to earning his Grand title. My human will see him next weekend, and after that, he will go up north to live with his new human. She will be showing him up in her region… and maybe down this way sometimes too. So I know I will be seeing him again at some point.
And here's the other news I promised you. Remember Frankie, the tortie who was up for adoption a couple of weeks ago? She was at the show this weekend… and she got adopted!
* * *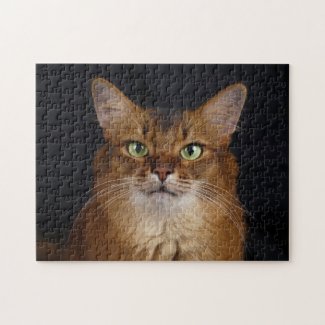 Somali Cat Photo Portrait Jigsaw Puzzle
See all of Summer's merch at her
her Zazzle Designercat Shop