I bet you are wondering if my human brought home any turkey on Thanksgiving night? The answer to that would be… yes!
We all got so excited over the turkey that my human had a really difficult time taking photos of us with her iPhone. But she persisted… she claims I make funny faces when I eat turkey.
I disagree. That face is not meant to be funny. That is the face of a fierce hunter gnawing on her catch! Or, at least it is the same face I would be making if that were actually the case.
If you want to see funny, look at Binga's face! That's what I call a feeding frenzy — she couldn't even sit still. My human is lucky she still has all her fingers.
No photos of Boodie — she politely sat on the floor and waited her turn. Which is why she did not score as much. You can't be polite when a freaky tortie is prepared to steal your portion!
* * *
---
---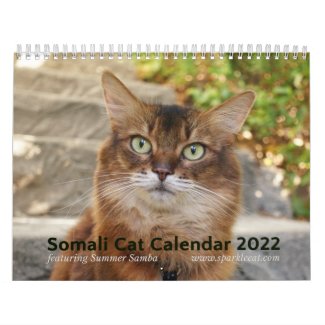 2022 Somali Cat Calendar Starring Summer Samba
See all of Summer's merch at her
her Zazzle Designercat Shop