It's Caturday and I have some fun outtakes for you!
Don't ask me what inspired my human to take the above photo while we were at the airport. She is supposed to keep the treats out of camera range.
I'm not sure why she took this photo either! She's supposed to wait until my ears go back to normal. Or at least not do anything to inspire this face in the first place.
I know what was annoying me in this photo. Look in the lower left hand corner of the mirror — my human's hand, holding a treat package, is in the shot. And I knew she was messing up.
Once again, here's my human's hand, in a shot with Binga. I'm not sure why she is waving her paw around, but she doesn't look pleased.
This may have been a misfire — my human was trying to get a shot of me in the pet shop when I turned around and headed for the counter. I love jumping on the counter, but my human didn't want me to do it at that particular moment. I remember hearing her say, "Don't even think about it!"… and ignoring her.
And lastly, here is a photo of me actually on the counter… with my eyes shut! Lovely timing.
I hope you enjoyed my crazy Caturday outtakes!
* * *
---
---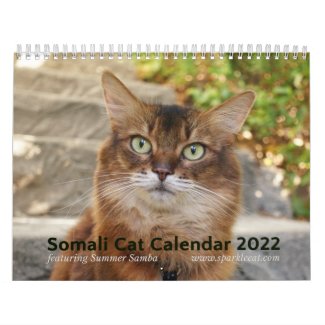 2022 Somali Cat Calendar Starring Summer Samba
See all of Summer's merch at her
her Zazzle Designercat Shop