Recently, my human was buying some elastic at Joann Fabrics. (She needs it for straps for my cat hats.) And while she was there, she saw a whole aisle devoted to craft beads. Some of them were on small, necklace-like strings. Well, necklace size if you are a cat. So she thought they might make good cat jewelry. The price was right so she bought some.
There were loads of them! Now I have more necklaces than my human does. So I got ready to model them.
A problem popped up right away. You could barely see the strand. It got buried in my fur. The solution to that was, of course, to wear more of them!
This revealed a second, more serious problem: having no shoulders makes it really hard for a cat to model necklaces.
My human thought that maybe if I wore a dress, that might help. So she grabbed a couple from a recent photo shoot. That only helped a tiny bit. Even though I tried striking some cool poses.
We tried a different dress, but it was obvious that the craft bead cat necklaces were a bust.
But even though the craft beads did not work out as fashion accessories, it's not like a cat can't ever wear a necklace. They just have to be right for her anatomy. As an example, here I am wearing an actual pet necklace.
Any crafters out there want some beads?
Other posts you'll enjoy:
* * *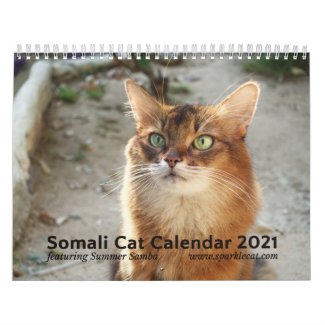 2021 Somali Cat Wall Calendar, Starring Summer
See all of Summer's merch at her
her Zazzle Designercat Shop