It was gray and overcast all day. It even rained in the evening! So I spent most of the day napping. In fact, I didn't really feel like getting off the couch, so I decided to do my selfies for this week right here.
I reached for the iPhone, hoping to get it over with quickly…
Except look who's here! And I have no idea where she came from.
I swear, she can hear a treat jar being opened from downstairs.
I guess she was just passing through. I'd better get this selfie over with before she comes back!
* * *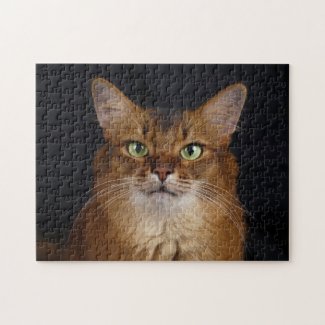 Somali Cat Photo Portrait Jigsaw Puzzle
See all of Summer's merch at her
her Zazzle Designercat Shop