I'm going to be at the cat show in Glendale this weekend, and there is going to be a Halloween contest. My human and I had to decide what I should wear, and it was between this piñata costume and another one. We chose the other one because I seemed more comfortable in it than this piñata costume. Funny enough, however, Binga didn't seem to mind it, so she is going to wear it for you today!
The only problem is she is not as good at posing in it as she is at wearing it.
At least she is facing the camera in this one. It would be nice if I could at least peer over that horn.
You know what? Maybe she is okay with wearing it, but somebody needs to show her how to wear it for the camera!
And of course I am the only one who can do it….
See? You are supposed to show off the head part! That's the most important thing.
Since Binga isn't wearing the piñata costume, my human figured she would put this dress on her. It's a little big on me, which means it fits Binga better.
I had hopes for Binga doing better at modeling in this dress, but she gets distracted way too easily.
How come I feel like I was tricked into wearing this thing?
* * *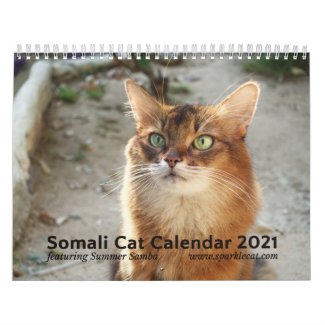 2021 Somali Cat Wall Calendar, Starring Summer
See all of Summer's merch at her
her Zazzle Designercat Shop