As some of you may know, my human's birthday is Sunday. Normally I would not mention this at all, since it is not particularly significant, but I am making an exception this year because I am having a commenthon in her honor! For every comment on this blog post, she gets to donate 50 cents to Kitty Bungalow Charm School for Wayward Cats, up to $50! I like Kitty Bungalow because they practice TNR and socialize kittens born to feral mom cats. They do lots of good work in the Los Angeles area. I also like the idea of my human having to give something on her birthday instead of just sitting around expecting presents.
Since it is the weekend and I wanted to guarantee I got the maximum number of comments here, I am also holding a cool giveaway! The Zuke's humans sent me some G-Zees cat treats for me to try out! And they said I could have a giveaway too!
They sent me one of each flavor, Savory Salmon and Tasty Turkey — and whoever wins my giveaway will get one of each flavor too!
But of course, I had to put my paw of approval on these treats before I could go ahead with a giveaway…
And they passed my taste test! They were really yummy!
They passed the taste test with Boodie too.
And they made Binga go crazy! Can you see me in the background, telling her not to eat all of them?
She was frantic to get more. She missed one, though… which Boodie found.
In addition to being really delicious, these G-Zees are also grain-free, and they have added glucosamine and cranberry for urinary and joint health. Usually, I don't like treats with supplemental healthy stuff added to them, but this was a BIG exception! All of us couldn't get enough of these!
So if you want a chance to win the G-Zee treats, say you are entering the giveaway when you comment below. Comments left before 11:59 PM Sunday night, July 21 will qualify, but it is open to U.S. residents over 18 years of age only. (Don't worry, my human is over 18 too. Maybe even in cat years.) The winner will be announced on Monday.
And spread the word so that we get lots of comments to support Kitty Bungalow! Plus, if you live in Los Angeles, or know someone who does, they are having an awesome CATbaret benefit downtown on August 4 — check it out!
* * *
---
---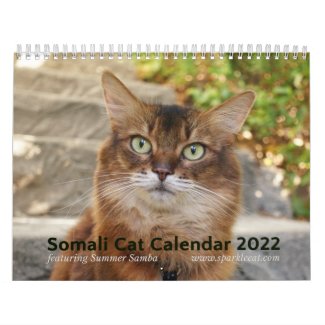 2022 Somali Cat Calendar Starring Summer Samba
See all of Summer's merch at her
her Zazzle Designercat Shop