Remember when I had to put on the little number sitting at my feet? How could you forget? Well guess what? There's video, and my human finally edited it together!
So if you really want to know how I felt about wearing this, you can see below! Don't worry, it's less than two minutes long.
I hope you are enjoying these videos! If you are, remember to stop by my YouTube Channel, and Like them, and Subscribe! And, if you hit the bell notification, YouTube lets you know right away when my videos are up! Sometimes I premiere a video so I can chat with people while we're all watching it for the first time. I did that with this video, and it was fun to have a few viewers stop by.
* * *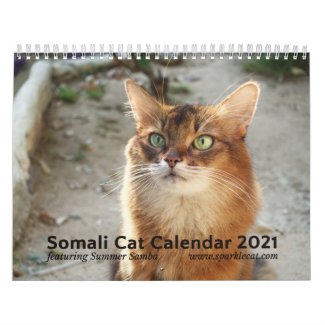 2021 Somali Cat Wall Calendar, Starring Summer
See all of Summer's merch at her
her Zazzle Designercat Shop