My human is always buying these headband fascinators, and removing the fascinator and making hats of them for me. This is the latest one. I think it is supposed to be a Christmas tree, but it looks more like a Christmas witch hat to me.
It took a few tries to get the hat on just right. We had to deal with a wardrobe malfunction.
Make that several malfunctions.
Once we got it on right, it looked okay. But I was still not sure whether I was supposed to be a witch or a Christmas tree stand. Oh! There was one cool thing about the hat, which I think was what inspired my human to get it.
It lights up and flashes! In fact, it touted having three different speeds. My human shot some video for an Instagram Story.
Unfortunately, near the end of the photo session, the lights stopped working. As you can tell, I was not terribly torn up about that development.
* * *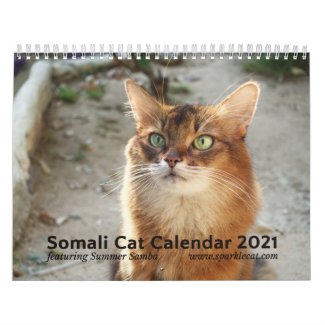 2021 Somali Cat Wall Calendar, Starring Summer
See all of Summer's merch at her
her Zazzle Designercat Shop