So many of you commented on my Christmas tree hat photo in yesterday's post, that my human went back into the archives to see what else she had. And you know what? There were a bunch of outtakes of me with that hat, and some of them were pretty funny. Above is the photo I used yesterday. Below are the best of the rest! (Yes there are hidden messages if you scroll over the photos.):
And you know what? My human had such a good time laughing over the photos that she put them together for a card for my Zazzle shop!
It's a little late in the season for her to be putting together Christmas cards and she spent way too much time in Photoshop, but hey, maybe you can get some for next year!
* * *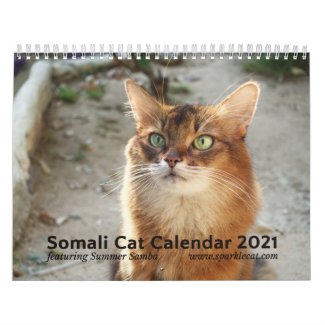 2021 Somali Cat Wall Calendar, Starring Summer
See all of Summer's merch at her
her Zazzle Designercat Shop