It's sure dark in here! That's because I'm in the garage. My human is getting ready to put me in my carrier so we can do some shopping. We are out of cat food — well, we are out of the kinds Binga favors. We have other cans she doesn't like as much, but my human likes to mix the good with the bad.
Can you believe the Christmas section was already up before Halloween? Now it's overflowing with stuff! Like these two walls' worth of dog toys! How come there are always so many more holiday dog toys than cat toys — and the cat toys are always such cheap little things?
Look at all these hideous holiday sweaters. In southern California. And it was in the mid-80s today. You can tell what I think of them.
There are other, more fun Christmas-y clothes. As you can see, we picked up a dress for me. I imagine you'll be seeing me in it at some point!
In addition to the cat food and a couple bags of litter, my human also picked up some tuna flakes, which I've never had before. After we checked out and went back to the car, I got to try some. They were great! It was just a short shopping trip today, and I didn't get to browse much, so that's all I have for you.
* * *
Check out my Valentine's Day Collection on Zazzle!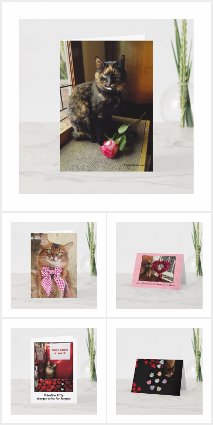 See all of Summer's merch at her
her Zazzle Designercat Shop