Why is my human wrapping gifts now? Even if we celebrated Christmas in January (which we don't — in fact, we're a secular household), there's something wrong with these.
The boxes are all empty!
She didn't even ask me for my help. I just happened to go looking for her and found her in her boyfriend's music room, kind of the way she was on Christmas Eve. This is what happens when humans go unsupervised.
Even though she didn't ask (which she should have), I helped anyway.
It's a good thing I got there before she put the bows on.
So now you are probably wondering what the deal is! These "gifts" are actually props for a photo shoot.
Remember that Christmas themed photo from my Caturday Extras post a couple of weeks back? My human wanted to dress up the tree a little bit and do a photo for my 2019 calendar before taking it down. She thought adding some presents would work well. So she's going to get out the real camera and set up some lighting, put me back in costume and get it done!
Figures you-know-who would show up. Well, guess what, we're not taking photos 'til tomorrow night, so there are no treats for you!
* * *
---
---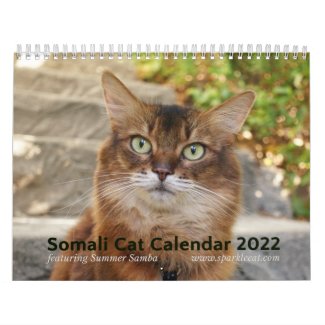 2022 Somali Cat Calendar Starring Summer Samba
See all of Summer's merch at her
her Zazzle Designercat Shop