You've probably noticed how hard my human and I have been working on putting together photos for my 2017 calendar! Sometimes my human will test out a few different looks on me before putting up a set so we don't waste our time on outfits that won't work. That's why it is Christmas in August around here right now.
Spoiler alert: this hat is not going to be in the real photo shoot. I guess that's not much of a spoiler.
Next up was this reindeer antlers headgear. If you are a very, very longtime reader of this blog, you may think you have seen this before (and the above Santa hat), and you would be right! My human brought them home way back in December, 2003. Sadly, she still has them, nearly 13 years later.
I mostly did not mind the antlers so they may make an appearance during the for-real photo shoot.
There's also the option of having me just dress up and look cute. That would be easy for me!
Right in the middle of the photo shoot, some kitty showed up, wanting treats. So my human stuffed her into the dress. She wound up in the antlers too (first time since 2003!), but I'm saving those photos for tomorrow! So Christmas in August continues….
* * *
---
---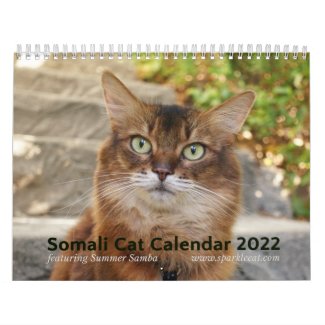 2022 Somali Cat Calendar Starring Summer Samba
See all of Summer's merch at her
her Zazzle Designercat Shop