You guys are amazing! You have given me a great list of shelters, each one worthy of many donations. I am glad I am having you vote on this — I would hate to have to choose one by myself.
So here is the recap: I have been nominated for a Pettie Award for Best Cat Blog. The winner in each of the four categories (the others are Best Dog Blog, Best Pet Blog and Best Cause Related Blog) gets to have $500 donated to the shelter of their choice. Most of the nominees have a shelter picked out, but I decided to let my readers choose for me. Below are the suggestions you made — you will be able to vote for ONE shelter in the poll to your right (the "Are you a cat who likes dogs?" poll will be back when this poll is done). You only have until midnight Friday ET to vote, so do it now!
Animal Rescuers Without Borders, San Diego, CA: Nominated by the Fraidy Cats, they say this unusual rescue "helps dogs and cats in Baja and Mexico as well as Southern CA."
Berkeley-East Bay Humane Society, Berkeley, CA: Nominated by Karen Nichols, Skeezix's human, she says, "They had a terrible fire there a few months ago that killed about a dozen cats. They're having to rebuild, but it's hard getting the funding during these tough times."
Cats Exclusive, Margate, FL: Nominated by Sniffie and the Florida Furkids, who says "they do great work." Some of you may be familiar with this shelter because it is where Harley, Daisy the Curly Cat's funny little brother came from!
Heaven on Earth Society for Animals, Van Nuys, CA: Nominated by Django & Satchmo (gotta love those names!), they say, "they specialize in special needs kittehs including FIV+. The vet bills are crazy high for these special angels and they're also hoping to get enough money to purchase their property and expand their iso space so they can help other rescues who don't have iso space, take the remaining kitties at the end of the big Best Friends adoption events. No one ever wants to see kitties go back on those trucks to the city shelters at the end of the day! It's their 10th anniversary and what a wonderful way to celebrate and expand to help more kittehs in the future!
Henry County Humane Society, McDonough, GA: I am nominating this one myself. Many of you are aware of the horrible high-kill rate of many animal control facilities in Georgia — Henry County Humane is a no-kill shelter and they could use all the help they can get to save pets who would otherwise wind up on death row in these ACCs.
Holly's Place Animal Rescue, Lawrenceburg, KY: Nominated by Marg of Marg's Animals Blog, she says, "It just looks like a great rescue and it sure has a nice web page, which sounds silly, but I feel like that is important to get people interested in adopting animals. They also have great pictures and lots of descriptions of the animals up for adoption."
Marley Fund, Greenville, NC: Nominated by Maggie May (she of the luxating patella) and her family the Creek Cats, she says, "they rescue and adopt out FIV and FeLV+ cats. We love Marley Fund and me and Saylor are in their upcoming calendar!"
Norfolk Society for the Prevention of Cruelty to Animals, Norfolk, VA: Nominated by Nico, Simon and JayJay, who say, "Our Mom has had wonderful experiences with this shelter as she helped her friends and their animals. Not only do they have a great adoption service, but they also provide discounted veterinary services (not just spay/neuter either — a whole range of vet services) to pet owners in an effort to help keep animals healthy!
* * *
---
---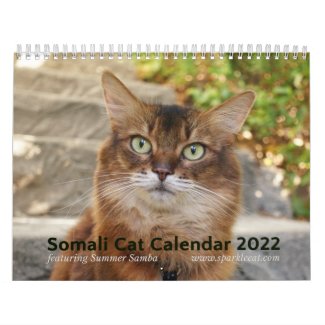 2022 Somali Cat Calendar Starring Summer Samba
See all of Summer's merch at her
her Zazzle Designercat Shop