Can you believe this is my first therapy cat visit for March? But it's been a pretty crazy month around here, as many of you probably know, so this was the first time my human could schedule a visit. I was happy that it was to the children's hospital. I especially enjoy visiting with kids.
We saw just a few people in the lobby area. I visited with several of them. One family with an older boy who was the patient petted me for a while. The mother liked me and said, "If our cat could see me, he would be so jealous!" Then she added, "He would not make a good therapy cat." A lot of people with cats say that. I guess it takes kitties with some unique qualities to do what I do.
I had several exam rooms to visit. Most patients spoke Spanish, so my human had to dig up what Spanish she knew to communicate with them. One mother asked what breed of cat I was, and my human had to explain my breed was basically an Abyssinian with longer fur. Somehow she managed! Of course, I didn't have any such problem — everyone speaks my language. Sometimes I am there for the family as much as I am the patient. One room had two kids in it. The little boy was delighted to pet me… but it was actually the girl who was going to pre op. She liked me too, but it was clear I was there more for her family.
On our way to the elevator to go to rehab, I visited with a boy who took some time from his game pad to pet me and pose for a photo for his mother. There was just one little girl in rehab, but she adored me! She had a cast on one arm, and the hand on her other arm was missing parts of some fingers, but that did not stop her from petting me. Or giving me high fives! She chatted on and on… except it was in Spanish, and my human had a hard time keeping up with her! It was actually pretty funny. My human took a photo of the two of us with the Poloroid type camera supplied to us, and in the picture, the girl is holding my paw.
I visited a couple of patients and their families in the pre and post op rooms. In the first one, it was definitely an instance of me being there for the family. The girl being operated on didn't really care about cats, although she did want to pet me. Her little sister, however, adored me. The girl in the other room was really happy to see me, and wanted a photo with me.
On the way out, we made a quick trip through the lobby, and there was a boy with forearm crutches who wanted to hold me. He was a real sweetheart, so I was very good about him holding me while he balanced on his crutches. He hugged me tight. I loved all the children I saw, but he was just a little bit special.
* * *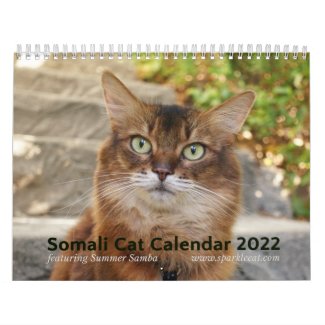 2022 Somali Cat Calendar Starring Summer Samba
See all of Summer's merch at her
her Zazzle Designercat Shop