My human shops at three different grocery stores (sometimes four) for herself. And she shops at three different pet stores (sometimes four) for us kitties. This week, we went to the big pet store. I was happy to go. It had been a while for me.
I got to spend lots of time with the cat trees and scratchers.
I even got to try out some of the merchandise. As if my human could stop me!
If you are wondering if this is my favorite part of the pet store, it is! I may even like it better than trying to sneak into the employee lounge.
There was a sign in the background that was giving my human a big hint.
Sadly, she paid no attention, and we wound up in the checkout line with just the cat food and treats we came here for.
At least I got some pets and admiration on the way out.
* * *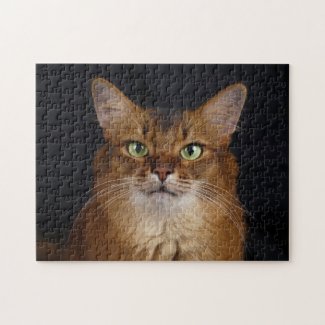 Somali Cat Photo Portrait Jigsaw Puzzle
See all of Summer's merch at her
her Zazzle Designercat Shop