I spent my cat show weekend visiting with humans, being petted, doing tricks and getting treats. It was a low key show, as far as spectators, so it was an easy weekend for me. Not so my half-siblings Sizzle and Vana! They had to compete in what was a pretty tough show. They are Champions now, which means they are being judged alongside other intact adult cats (eight months old and up). When I was a Premier (altered adult cat), I only needed 75 points to get the title of Grand Premier. When you are a Champion, you need 200 points to become a Grand Champion! So it is a lot tougher.
Sizzle is okay with grooming, although there are probably other things he'd rather be doing… like eating treats! So sometimes he got to do both at the same time. Don't tell him, but I stole a few of his treats.
Vana is more easygoing about it. She enjoys the interaction with my breeder.
In each ring, Sizzle and Vana competed against each other for the title of Best Somali cat. Then, if the one who got Best Somali was lucky, he or she got to be in a final with Champions from other breeds. They'll need those 200 points to compete against the other cats who have already earned the title of Grand Champion. Sometimes a Champion who has not Granded yet will get a spot in the Top Ten finalists (spots reserved for Grands), but it does not happen very often.
The judges scrutinized Sizzle from every angle…
And then they pretty much did the same thing to Vana!
Sizzle had the advantage because he is a male (they always have the edge over females), and his color was just a bit darker. He and Vana both have great color, though!
Vana is a natural in the ring, and loves to play. That helped her a couple of times.
She also kissed up to several of the judges. She is very good at flirting! Because of her looks and sweet personality, Vana managed to get Best Somali a few times, but Sizzle got it most of the time.
Sizzle also earned a couple of finals. In fact, in one ring he was the top Champion out of the cats the judge finaled! He came into this show with some points toward Grand, and after this show, he is well over halfway to getting his Grand title!
What did I do while these two were getting judged, when I wasn't being petted?
You guessed it!
* * *
---
---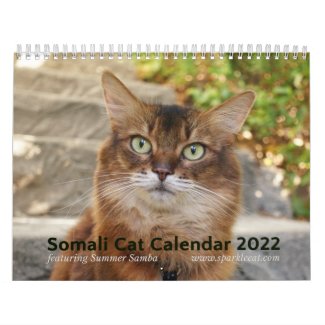 2022 Somali Cat Calendar Starring Summer Samba
See all of Summer's merch at her
her Zazzle Designercat Shop