I was back at the children's hospital again for this therapy cat visit. The lobby was hopping, with some sort of event going on. Someone told my human there was even a miniature pony there, but we never got to see it.
Since my human could tell I was a little uncomfortable with all the bustle in the lobby today, she took me to the exam rooms right away. I love visiting one on one with patients, so I was looking forward to that. On the way there, a lot of staff stopped to visit me, and a couple of them remembered my name! And a couple more recognized me in my TikTok video that went viral recently. That was a first, to be recognized like a real kitty celebrity!
But the important thing was to brighten people's day, so we got busy seeing patients in the exam rooms. The first family had a baby who was fascinated by me. The mother mentioned that she hadn't seen a cat there before, and my human said that the baby wasn't even born yet the last time we were visiting regularly. "Yep, she's a Covid baby," said the dad.
Sometimes the rooms have a flag that reads "Interpreter," and usually they speak Spanish. A mother in one of these rooms at first waved us off because she spoke almost no English, but my human was actually able to explain our visit in enough Spanish for her to understand and welcome us. Her little boy happily hung out with the "gatita" for a little while.
After the exam rooms, we headed back to the lobby for a little while, and one little girl remembered me from a previous visit. She was a sweet child, and when a girl in a wheel chair rolled up to see me, she introduced herself and was friendly and welcoming. Then we made our way up to the operating area, and a teenaged patient was being rolled out. She had a lot of fun visiting and chatting, while her father held her prosthetic leg.
It was a busy day, with more activity than I was used to, especially after taking such a long break from therapy cat work. So my human made sure I felt okay during the whole visit. She petted me reassuringly when she thought I seemed nervous. And she had me do lots of high fives and gave me lots of treats. These (the treats and tricks) are very grounding for me. Along with making patients and staff happy, it's important that I'm happy too — and my human always keeps that in mind.
Other posts you'll enjoy:
* * *
---
---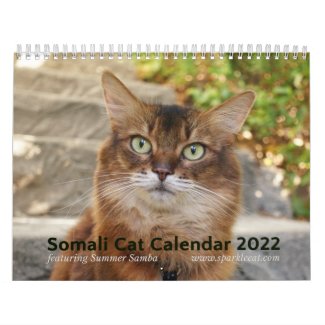 2022 Somali Cat Calendar Starring Summer Samba
See all of Summer's merch at her
her Zazzle Designercat Shop