For a couple of years now, my human has been trying to get a calendar-worthy photo of me for St. Catrick's Day. She's done several photo shoots, including one this week, and nothing works 100%. Maybe I'm just not into the green! But I thought I would show you some of what hasn't worked anyhow. So here are some St. Catrick's extras for you.
We started off this week's photo session with a different hat, but I just couldn't make it work. You should have seen the shots where I had it over both ears — I looked demented! But my human didn't download any of those.
Lately my human has been trying to get photos of me waving at the camera. So far, it's hit and miss. This one was a big miss — I look like I'm shooing away the paparazzi!
Another not-so-bright idea my human had was to wrap me in a garland, kind of like a boa. This photo is proof that boas and garlands are two different animals.
I finally started getting fed up with the whole photo shoot and kept taking off my hat. My human caught me in mid-fling here.
I think I look pretty defiant here! In fact, I think I look pretty St. Catrick-like! Did I mention that some people believe St. Catrick was a girl kitty? Nobody ever looked at St. Catrick's behind to check, so we'll never know.
* * *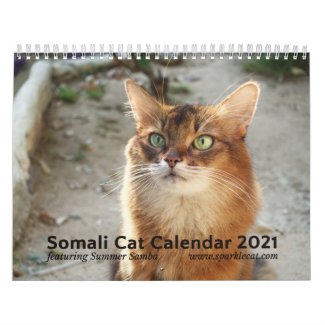 2021 Somali Cat Wall Calendar, Starring Summer
See all of Summer's merch at her
her Zazzle Designercat Shop