My human certainly racked up some photo flubs this week! Even just a simple and quick therapy cat picture wasn't easy. Okay, that was kind of my fault, but I was getting impatient. That's why I look a little grouchy.
This was when my human was setting up the light boxes for the photo studio. I thought I was being cute. (Well, I was, wasn't I?)
Here's yet another outtake with my human's hand in it. At least she is holding a toy, although I don't seem to be impressed. I must have known her hand was in the shot.
There were quite a few outtakes from that outdoor photo session. I think I was telling off my human for the previous shot.
And don't I look awkward here! It actually took some tries to get my paws in the right place for the photo that appeared in the original post.
I guess I have to take full credit for this one. What can I say? The cover to the water shutoff valve was warm! So I immediately gravitated to it. And I didn't want to get up and sit on the grass. That's pretty obvious!
And… that's the end of this week's outtakes! I hope you enjoyed them.
* * *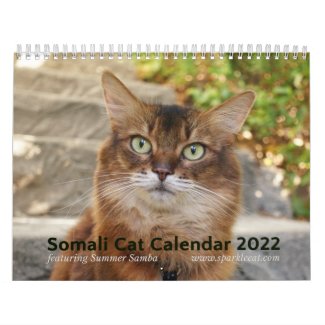 2022 Somali Cat Calendar Starring Summer Samba
See all of Summer's merch at her
her Zazzle Designercat Shop