I thought I would share some recent outtakes and extras today. Not all the photos are bad. Like the one above — It's a decent photo of me, but it didn't really make any sense to my human. As if there was anything to explain — doesn't every kitty want to rub on a metal railing?
Here's another photo from the same afternoon. I must have been enjoying a treat.
I'm not sure what the story is with this photo. Either I was trying to get up onto the shelf at the pet store and needed help. Or I had already been up there and was a little buzzed from the close proximity to the Meowijuana.
I was definitely stoned in this photo!
My human must have the one who was high here — who in their right mind would snap a photo just then? At least you now know what I was looking at on Wednesday.
And lastly, here is a photo of Boodie, asleep.
I hope you enjoyed my outtakes and extras!
* * *
---
---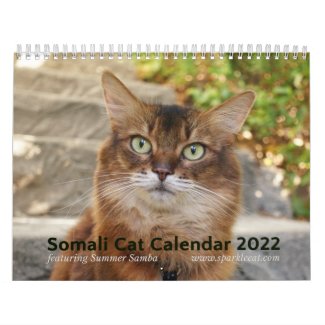 2022 Somali Cat Calendar Starring Summer Samba
See all of Summer's merch at her
her Zazzle Designercat Shop