My human is trying to finish editing the latest volume of Rescued and create a galley for reviewers and blurb writers this weekend, so I figured I'd make it easy on her and feature some recent outtakes and extras from my photo library! Plus I know you enjoy them.
When my human is setting up a photo session for me, she uses a stand-in for lighting and camera adjustments. Sometimes I can't resist supervising.
Remember when I was testing the pearls in this necklace to see if they were real? I tasted them too! Actually, the necklace tasted kind of icky and it took forever for my tongue to feel right again.
Ever since my human bought me this dress, she has been trying to get a decent photo of me in it. So far she has had no luck. I'm glad the interviewer from yesterday did not see this photo — I would definitely have not gotten a call back!
We had a good box a while back, and my human thought it might be a good prop for a photo shoot. So she took some photos (Boodie is always up for a big box!), but then she never could figure out what to do with them.
As you can see, Boodie thought the whole thing was a big joke.
I hope you liked my outtakes and extras today!
* * *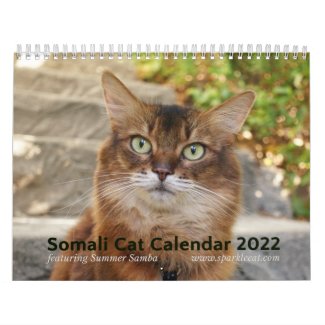 2022 Somali Cat Calendar Starring Summer Samba
See all of Summer's merch at her
her Zazzle Designercat Shop