I have a pretty crazy selection of outtakes for you this week! There were a couple of photos like the one above, but I just picked this one… Binga was being sneaky about her photo bombing that day.
My human was trying to get a photo of Binga's whapping paw. With her super-fast moves, that didn't work out too well.
Sometimes it doesn't work out with me either, even though I don't have a whapping paw! My human wishes sometimes that I would just raise my paw and hold it still. But she hasn't figured out what would get me to do that. At least not yet.
Remember that ridiculous fish hat? This outtake is from that photo session, and nobody was happy.
This one is from the evening I was waiting for dinner at my hotel. My human took an awfully long time taking photos before she fed me!
This one is the weirdest outtake of all. I can't explain what happened here — I don't know! All I do know is my human accidentally hit one of the functions on the iPhone camera, and then she turned it off right away. Which one? No one knows. She didn't even realize what had happened until she was downloading photos later on. Too bad she can't remember. It would make a cool faux Picasso effect for digital art.
I hope you liked my outtakes today!
* * *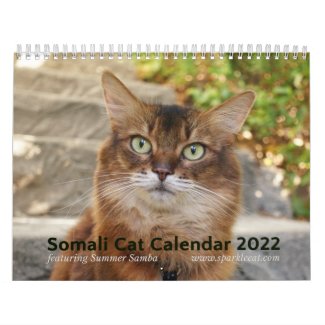 2022 Somali Cat Calendar Starring Summer Samba
See all of Summer's merch at her
her Zazzle Designercat Shop