I'm going to be Pet Me Cat at a cat show this weekend, so here I am at a hotel room in Pomona. I'm looking forward to having a good time, and I will get to see my half brother Sizzle!
Although I love being in hotels, sometimes I get bored and I look for things to do that my human does not approve of. Like, this hotel bed had a special feature that I found, but she didn't like! And she ruined it.
Do you see those little silvery dots? Maybe I need to show you closer up.
You know how bed box springs have a fabric on the bottom? Well, the fabric had fallen away on one side so I could crawl inside the box springs… except my human found out and used safety pins to fasten it shut.
Plus, the other side had a hole in the fabric, so my human plugged it shut with a decorative pillow.
At least I got to go for a walk! We are actually not staying in this hotel long and by the time you read this we are probably already checked out. There was no desk, just a table and no chair. So my human asked the front desk for a chair. Since she had to run out and get dinner, she told them to just leave the chair by the room door — not to come in because there was a cat (me) in the room and she put out the Do Not Disturb sign. And when she came back, they had ignored the Do Not Disturb sign and put the chair in the room. Fortunately I was a good girl and did not run out, but she was really mad. So we are leaving a day early and just making the long drive from our house to the show on Sunday. She is probably going to say some not-nice things about the hotel on a review site.
* * *
---
---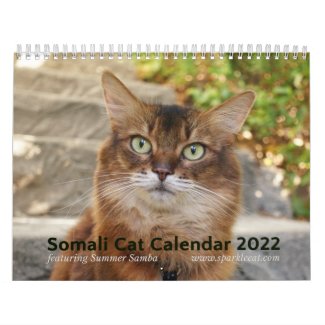 2022 Somali Cat Calendar Starring Summer Samba
See all of Summer's merch at her
her Zazzle Designercat Shop