Note: I will be continuing the Saturday Catinee, but only occasionally, when I have a really special video to share with you! I will be posting more fun cat videos on my Facebook page, so you can watch for them there.
As you can see, Binga and I were totally frantic with excitement because we were getting something we thought we'd never have: ham! It was a fortunate accident. My human went out to dinner on Thanksgiving and they got her order wrong! She only ordered turkey but they gave her the combo, which was turkey and ham. She does not eat ham and does not even like it, so she made sure she was not charged for it and she left most of it on the plate. But she did grab a chunk for her take-home bag because she knew we would like it. You will have to excuse the quality of these photos because it was dark, late and we couldn't keep still!
Can you believe my human tried to make me "stay" to get a piece of ham? I was incredulous. But I did "stay," if only for a millisecond.
I was actually very polite and did not chomp on my human's fingers. My human had to give Binga her ham in shreds to keep a distance between her fingers and Binga's teeth because she does chomp! Boodie got some too. In fact, there was enough ham for us to have a second round of treats on Friday too. Sadly, I doubt we'll be seeing any more ham anytime soon!
* * *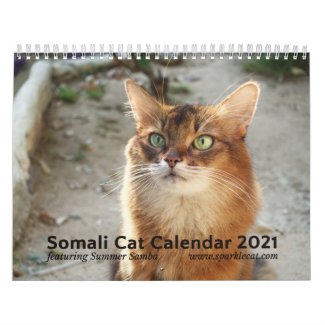 2021 Somali Cat Wall Calendar, Starring Summer
See all of Summer's merch at her
her Zazzle Designercat Shop