Although Sparkle and I don't really look much alike (among other things, my eyes are bigger and my ears wider set), in some photos we do look a little similar. Like this photo of Sparkle from October, 2011. Sparkle didn't love posing for my human the way I do, but when she chose to, she could really be photogenic. Let's see what she, Binga and Boodie were up to that month!
Sparkle was performing a pre-TSA check on my human's boyfriend's suitcase for one of his many trips.
Sparkle's 2012 wall calendar came out that month. She did a photo session with it… and Boodie showed up for a few photos! (You can buy this year's calendars with me here.)
That was also the year my human got her boyfriend a new office chair for his birthday, which is the end of September.
Binga had her own way of breaking it in. It was actually kind of a cheap chair. It's really beat-up looking now. I think my human owes him a new one.
It took Boodie longer to warm up to the chair (and get her fur all over it). She preferred hanging out in a recently-delivered box.
That was also the year Steve Jobs died. Sparkle posted this tribute to him. My human can't believe it has been six years already.
Sparkle loved sleeping in sun puddles. I mean, what kitty doesn't? But she especially liked them because she could ignore my human and her camera.
I hope you enjoyed this Caturday flashback with Sparkle, Binga and Boodie!
* * *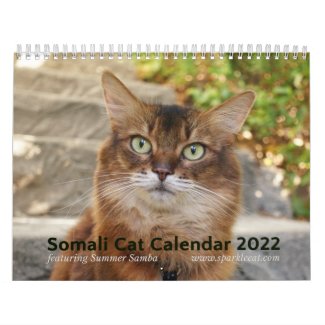 2022 Somali Cat Calendar Starring Summer Samba
See all of Summer's merch at her
her Zazzle Designercat Shop