I bet a lot of you have a hard time believing that 2010 was nine years ago! I don't — I wasn't born yet. In fact, I'm not sure my mother was even born yet, back in February, when these photos were taken. But Binga was around (in fact, at 9, she was already approaching senior status), and so were Boodie and Sparkle. So let's see what was going on back then.
Binga and Boodie have always been pals… although sometimes I have to wonder why, because Binga has a habit of grooming Boodie, and then beating her up. She still does it. She did it today in fact, and my human had to make her stop.
Binga and Sparkle weren't as close. They both wanted to be Top Cat. I think Binga must have won this round, with the shower in the master bathroom.
Sparkle was one of those cats that freaks out when one of the other cats go to the vet, so sometimes she had to accompany Binga or Boodie on their checkups. Binga was the patient here (she had been throwing up, but she checked out okay). You can see Sparkle was not thrilled to be there — and Binga didn't care.
Of course, Binga and Sparkle still had their moments together.
And when Binga decided to play with a toy, no smart kitty interrupted her!
I hope you enjoyed seeing what Binga was doing half her lifetime ago!
* * *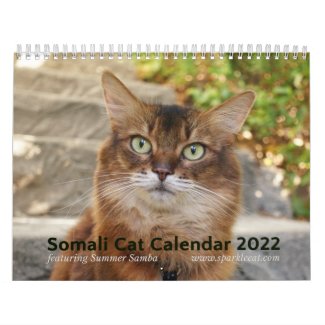 2022 Somali Cat Calendar Starring Summer Samba
See all of Summer's merch at her
her Zazzle Designercat Shop