Since I had two therapy cat visits in the past week, it reminded me of the routine that went on every time I returned. As soon as we get back, my human gives me a couple of treats for a job well done. When Binga was around, the routine also involved her. No matter where she was or what she had been doing, she always showed up to get some treats too. Even though she hadn't done any work.
Like literally, she could have been sound asleep, but the moment I came home, there she was.
In fact, she always tried to get to the treats first! My human tried to make sure I got the treats I had earned, but sometimes it was pretty difficult.
You know what, though? I kind of miss having her here when I get back from therapy cat visits.
* * *
---
---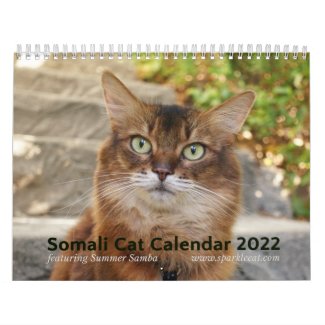 2022 Somali Cat Calendar Starring Summer Samba
See all of Summer's merch at her
her Zazzle Designercat Shop